The stuff you generally skip
I grew up in a household that pretty much only listened to classical music. Red and green buses went up and down my street. My earliest musical memories are of Stravinsky's Firebird Suite and Bizet's Carmen, however, I discovered three odd records among my parents' Deutsche Grammaphon LPs, a Charlie Parker, a Duke Ellington and a Louis Armstrong. These were the records that triggered something in my brain. My Mum played the piano and later I had lessons. Around age 14 I saw my cousin Donny play Here Comes the Sun on his guitar and I was hooked. At some point during this period I saw The Blitz Boys & Trial Offer at a show at my school in the Forest of Dean (both bands made up of pupils) and a light went on. I think within a year or maybe two I was in my first band.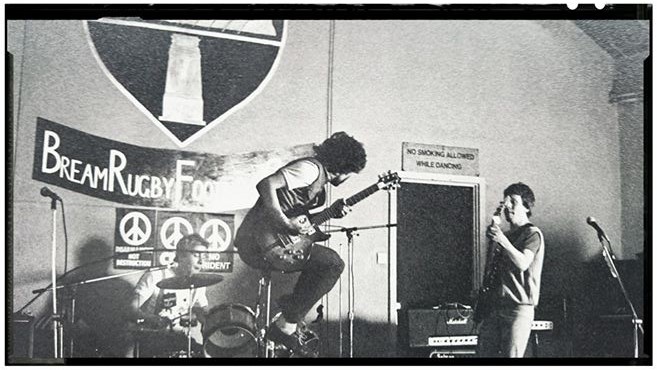 More early bits
There were a couple of school bands, the details of which are sketchy now. There was one called The Funk Town 3 which comprised 2 guitars and a Dr Rhythm drum machine, Stella 5 who did covers of The Rolling Stones and OMD and very few gigs. There were possibly others I don't remember. The next band was Three Imaginary Boys who stayed together a couple of years and even made a self-financed 7" single. We had a little PA, a van and what felt like a residency at The British Flag in Gloucester. We played all the time, mostly in pubs and rugby clubs and towards the end of our time together started playing at Unis and Polys a bit further afield. If Mark and Studge knew what they were doing I didn't but it was all important, formative stuff.
The goth years
After Three Imaginary Boys I joined Barry Phillips in Kiss The Blade. We made a self-financed single, The Party's Begun. It did quite well for us and was picked up by Janice Long on her BBC Radio 1 show. She had us in for a session at BBC Maida Vale and I think it might even have been her session of the year, though this could be false memory syndrome. Incidentally if you have a copy of the 12" of The Party's Begun you can sell it to a Spanish Goth collector for a fair bit these days. After falling out with the "management" Barry was chucked out of his own band and I followed fairly quickly and some time after that we formed The Wheel. We made the first couple of records ourselves but expanded into a six-piece band winch included a cassette deck which "played" our kick drums and poor Julian trying to keep up on live snare drum - hi hats were, for some reason, verboten. It turned into a pretty rocking outfit but sadly, was short-lived. After two records released and one that was never issued we split and Barry went on to release records with The Rainsaints on Good Vibrations. I did nothing for a while.
I acquired a portastudio, a Yamaha MT1X, and set about writing and experimenting. The results of my struggles with cassettes eventually turned up years later, forming the kernel of my 2019 LP I Feel Nothing Most Days on Second Language Music. There were various recordings made, a self-financed 12" single issued as Redland and various cassettes under names like Psychomania, Baby and Uglyfruit.
This is big beat...
Some of this stuff is just so hazy. I don't remember things in sequence and the 90s really isn't a good source of reliable memories. All I know is that my old friend and former band mate James Akin (The Wheel) got signed to Parlophone as part of EMF and at some point asked me to help with a remix - I think it was an Adamski tune. Adamski didn't use it but we did and it became the first Cola tune. We got ourselves signed to Polydor, (should have gone with Interscope - still kicking myself) , roped in Anna Haigh (Red Snapper, Chelsea Grin, Bocca Juniors) and changed our name to Cooler after someone threatened to sue us. I think we put Cooler together in about 1996 and were done by 2000. It felt like one long party and included tours with Bentley Rhythm Ace and Fuzz Townshend, three singles, lots of press action and even a bit of TV. It was the time of Big Beat, Fatboy Slim, Headrillaz, The Chemical Bros, Turnmills, The Heavenly Social, dancing, partying, remixing. And then it was suddenly all over. All that noise just seemed to disappear overnight. I wish I still had that Trixon Speedfire kit and that brown Marshall combo!
So I started making quiet, beatless music. I went back to Eno and Bowie's Low and Heroes, Harmonia, Neu, Kraftwerk etc. I made music for myself to listen to in the bath. At some point Anna Haigh asked me for tracks for her mate's compilation and she passed on a couple of these pieces. When asked who had made them she said "it's my mate Dollboy", which was her nickname for me at that point and so the next phase started. That comp got picked up by Nick Luscombe at xFM and The Big Chill and suddenly Dollboy was something. Loads of shows, festivals, radio sessions and six or seven albums followed and there may be more to come, who knows?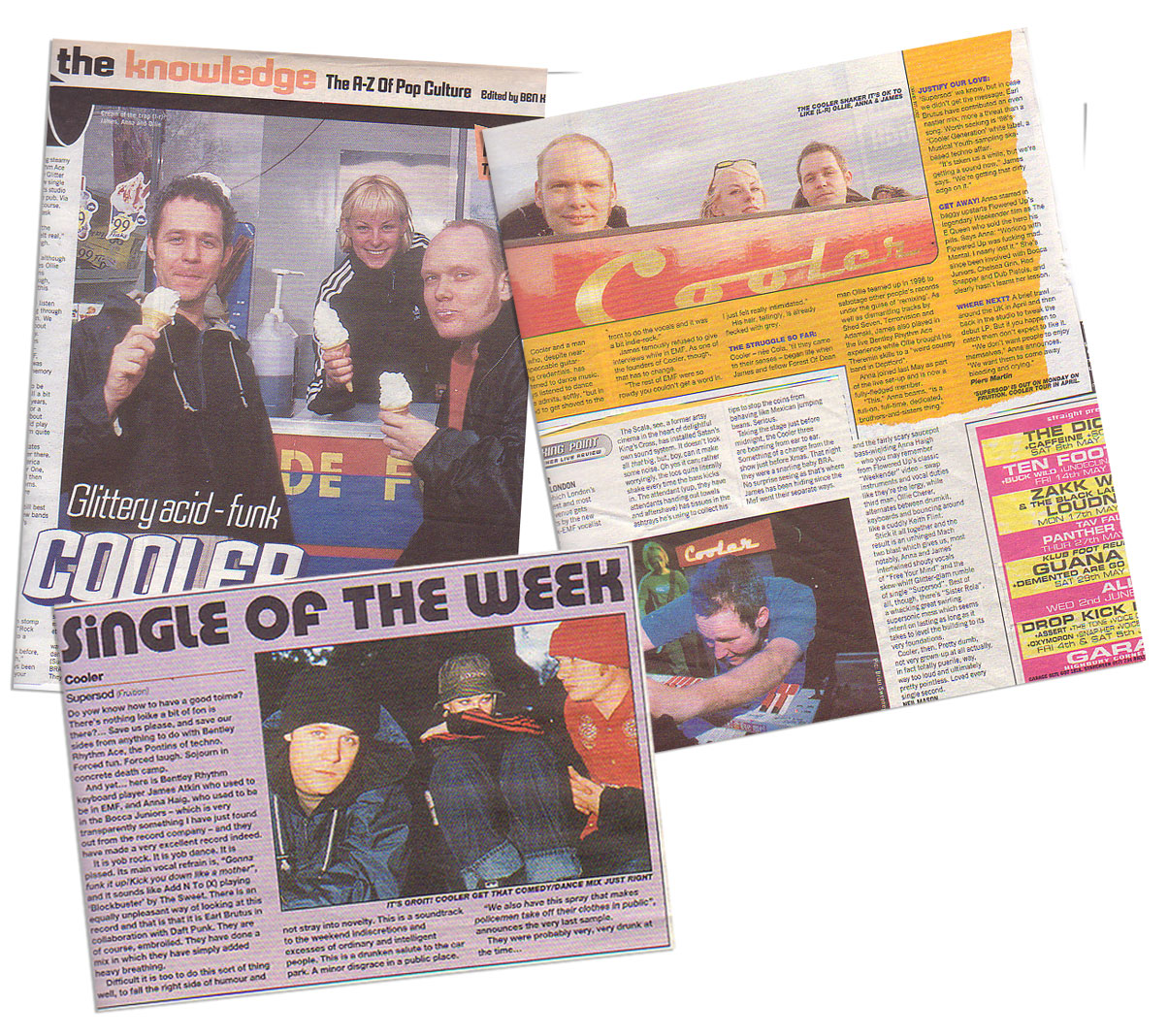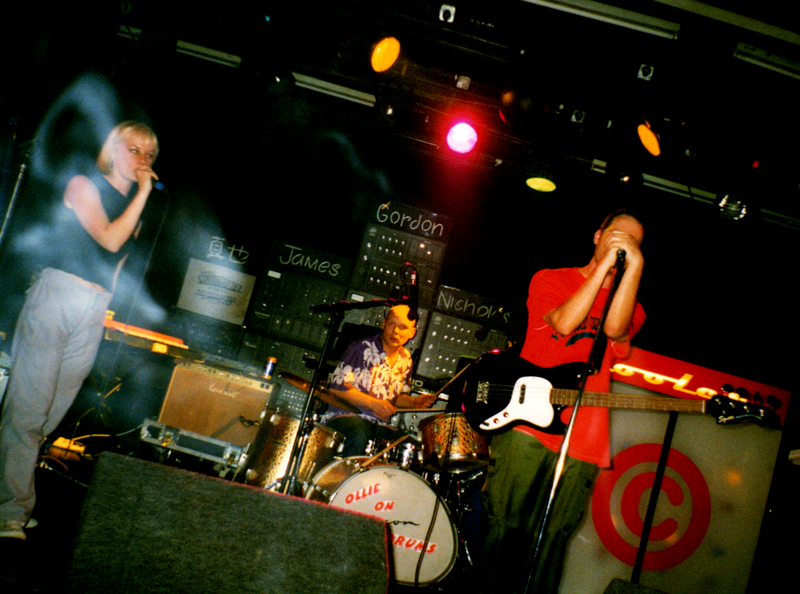 That's not my name
Although there have been many members of a Dollboy live band really it was just me in my studio most of the time and after a while it seemed silly to be hiding behind an assumed name, especially one as silly as Dollboy! So in 2014 I released my first record under my own name. And that's where I am now. So far, there are three Oliver Cherer albums, Sir Ollife Leigh & Other Ghosts, The Myth of Violet Meek & I Feel Nothing Most Days. plus a collaboration with Riz Maslen and Andrew Kötting, The Whalebone Box.
This coincided with a period of making and releasing a lot of music in different styles and under different pseudonyms, (something for which I have rather embarrassingly picked up a bit of a reputation). There were records issued by Polytechnic Youth, Front & Follow, Deep Distance, Modern Aviation etc. most of which sold out quickly and are now long gone.
There were also forays into theatre, writing and performing music for productions by Biba Lille-West such as Carol Churchill's This is a Chair and a bizarre "live sitcom" called In a Hole, performed in Gary Hume's drawing room and filmed for the Allen Jones retrospective at the Royal Academy.
I'm always working on something new and always have more than one pot bubbling, so at any given time it's usually hard to say what's coming next. One of the consequences of having dabbled for so long and so constantly in various areas of music-making is that there is now a huge pool of ideas in various stages of gestation from which to draw. When two or even three records come out in the same year it can look like a period of feverish work when really it is usually a combination of coincidence (in its purest sense) and a little last minute polishing.